1BENMU ✔️ Microcement | Toronto & GTA
Microcement is a modern way to add texture and interest to any space and it has become increasingly popular in recent years, thanks to its sleek, minimalist look.
Microcement is a popular choice for creating a modern look. This type of finish is available in a variety of colors, and can be customized to create unique looks. Microcement is a type of cement that is made up of very fine particles. It is often used in construction projects where a smooth, seamless finish is desired.
One advantage of microcement is that it can be applied in thin layers, which makes it ideal for use on walls and ceilings. It can also be tinted to create different colors and effects. In addition, microcement is resistant to water, stains, and scratches, making it a durable choice for both indoor and outdoor use. Although it is more expensive than traditional cement, microcement is becoming increasingly popular due to its many benefits. As a result, it is likely that we will see more and more applications for this versatile material in the years to come.
Our Latest Microcement Project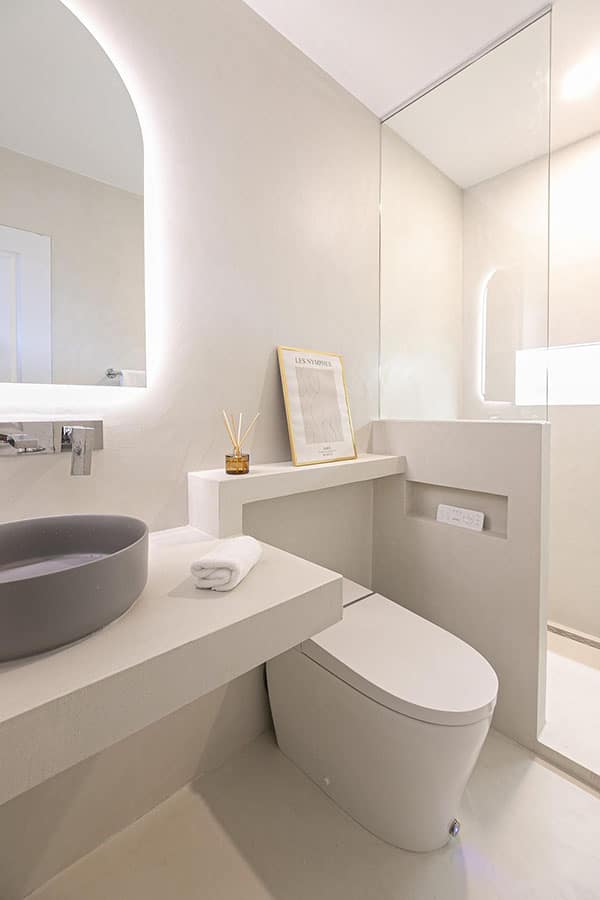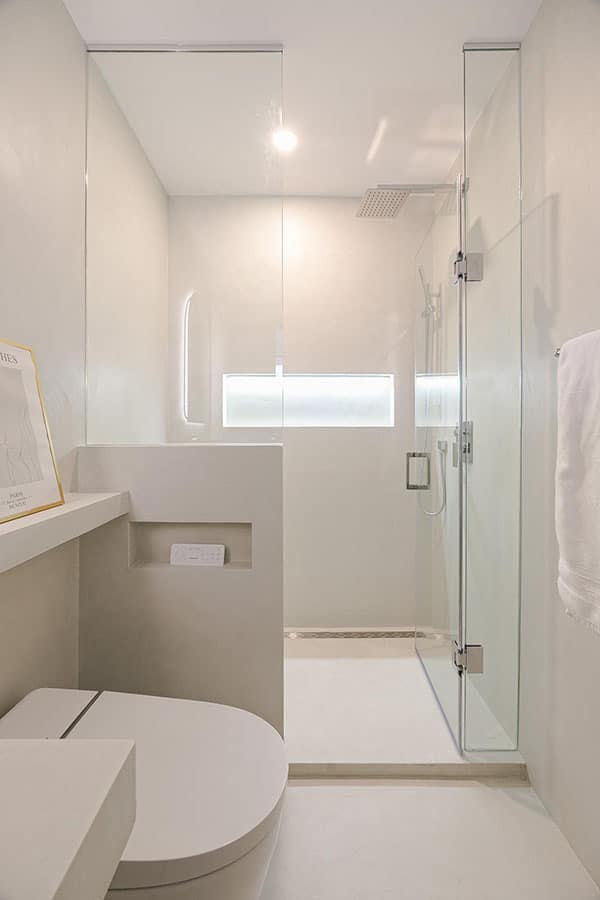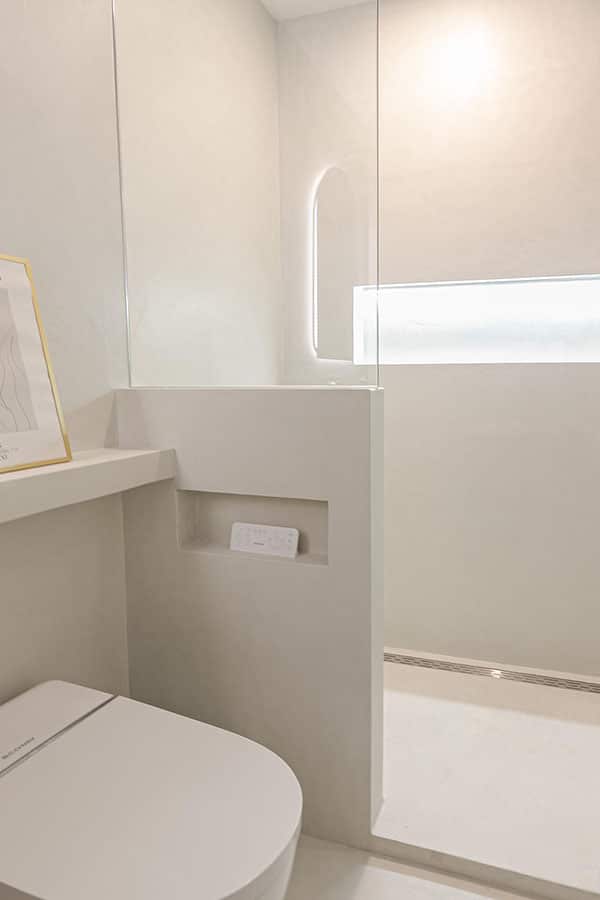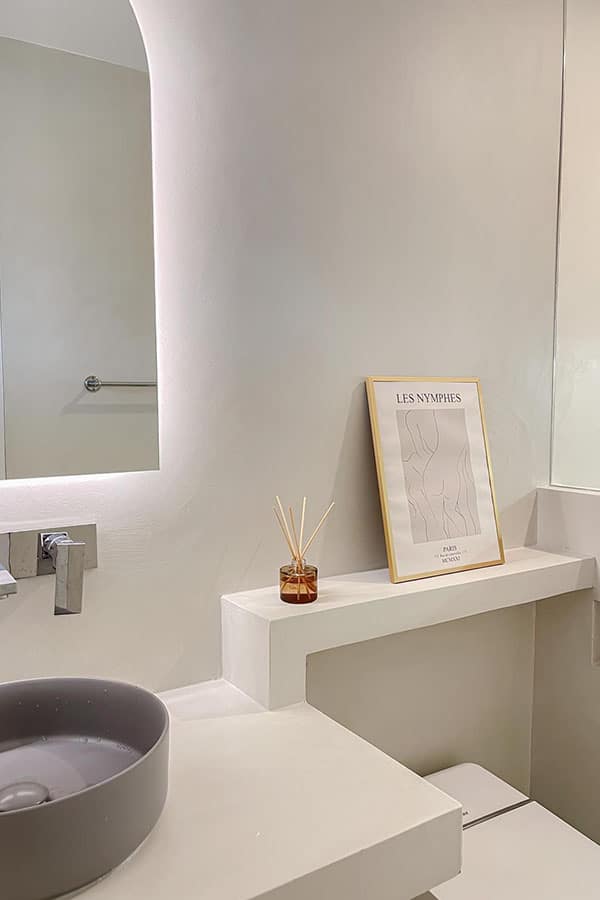 Really professional and dedicated staff. Custom work is always a longer process and it was worth the wait. We live our vertical slat walls. The installers worked extra hard to make the design work in our difficult place. Shout out to Frank, Carter and Mr.Liu.
Awesome work . They did yesterday
eileen hipfner
2022-09-15
I purchased a small step stool from 1BENMU and am delighted with it. It is beautifully designed, constructed and finished, and very sturdy. I'm impressed with workmanship.
Muchi was completely open to manufacturing a millwork design they had never produced before. It was a pleasure to brainstorm with the team, especially Henry, to achieve the design the client wanted. During the entire process and a few changes, they never said 'No'. Sharon was always available to guide questions and provide updates. The installation was complex and they executed it perfectly. I found the team very courteous, respectful and professional. I have very high standards when it comes to workmanship and Muchi delivered. I will absolutely use them again.
Right from the first time we contacted the guys, we were impressed by their responsiveness, attention and enthusiasm. We asked them to create a slat wall that serves as a visual boundary around a space in our house and also as an interesting visual that stands out in the space. The end product is fantastic and we constantly receive compliments on it from our guests. Their pricing was also fair and reasonable. We will definitely contact Carter and Henry again if we need more custom millwork.
1BENMU did an outstanding job on delivering and fabricating an offsite slat wall. They worked in close contact with our GC. Project called for a high end office reception room wall feature and 1BENMU delivered. It looks great. A lot of attention to detail from 1BENMU. I highly recommend their service if your looking for great service and product.
I honestly wish more people would know about this place. If you are huge on interior, this is the place where you would want to get your furniture with high quality. I ordered an oak wood bench a few months back and have been using it on the daily. The aesthetic and quality are both there, and the bench was easy to assemble. Overall, I would purchase from this shop again and would highly recommend the shop to anyone.
Great company. Reasonable price. Detailed craftsmanship. Many pieces are done by hand. They have a lot of young and modern concept and ideas. I highly recommend them to any project. Whatever you can imagine, they can make it come true.
Seamless Microcement Floors
Microcement floors are becoming increasingly popular in both commercial and residential settings.
There are many benefits to using microcement on floors. This type of flooring is easy to clean and maintain, and is available in a variety of colors and finishes. Microcement floors are also slip-resistant, making them a good choice for areas where there is potential for water or other liquids to be present.
Often chosen for their durability and low maintenance requirements, microcement floors are also prized for their seamless, smooth appearance.
Traditional cement floors can be rougher and more porous, making them more susceptible to stains and dirt buildup. In contrast, microcement floors form a hard, impenetrable surface that is easy to clean and keep looking like new. In addition, the lack of joints or grout lines gives microcement floors a sleek, modern aesthetic that can elevate any space.
Whether you're looking for a durable floor for your kitchen or a chic surface for your living room, microcement may be the perfect choice.
Modern Microcement Walls
Microcement walls have become increasingly popular in recent years, thanks to their sleek, minimalist look.
There's no denying that concrete is having a moment. Even in spaces that traditionally shunned the industrial material, like living rooms and kitchens, concrete is popping up as an unexpectedly chic choice. And one of the most popular concrete trends today is modern microcement walls.
Microcement is a type of very fine concrete that can be applied directly to walls (and even floors and ceilings). It's typically only a few millimeters thick, which gives it a sleek, smooth look. Plus, it can be tinted any color you want, so you can really make a space your own.
If you're looking for a unique way to add personality to your home, consider using microcement to create modern accent walls. Whether you go for a monochromatic look or something more colorful, microcement walls are sure to make a statement.
1BENMU Microcement Experts in Toronto
When it comes to modern interior design, 1BENMU is one of the top design-driven and high-quality contractors in Toronto and the GTA.
Our designers and contractors are changing the way people think about interior space design. 
If you are interested in exploring the possibilities of microcement, contact 1BENMU today. Our team of experienced microcement contractors will work with you to create a unique and beautiful space that meets your specific needs.
| | |
| --- | --- |
| • Our Experience |  Top Rated |
| • Price Estimate | FREE Consultation |
| • Service Area | Toronto & GTA |
| • Contact Us | (647) 348-8733 |
Do you provide Microcement services in Toronto?
We provide our microcement services all across Toronto & the GTA including, but not limited to:
Toronto
Bridle Path
Casa Loma
Don Mills
East York
Etobicoke
Forest Hill
Golden Mile
Hoggs Hollow
Kingsway South
Lawrence Park South
Leaside
Lytton Park
North York
Nortown
Rosedale
Scarborough
St. Andrew-Windfields
Summerhill
The Beaches
Willowdale
Yonge-Eglinton
Yonge-St. Clair
York Mills
Yorkville
Acton
Ajax
Alliston
Angus
Aurora
Barrie
Bolton
Bradford
Brampton
Burlington
Caledon
East Gwillimbury
Georgetown
Georgina
Guelph
Halton Hills
Hamilton
Innisfil
King City
Kitchener
Markham
Milton
Mississauga
New Tecumseth
Newmarket
Nobleton
Oakville
Orangeville
Oshawa
Pickering
Richmond Hill
Schomberg
Stouffville
Thornhill
Uxbridge
Vaughan
Waterloo
West Gwillimbury
Learn more about our Microcement Services
For more information, please feel free to contact our Microcement Experts to learn more about how we will help you with your project. We provide our services across GTA including Ajax, Aurora, Brampton, East York, Etobicoke, Markham, Mississauga, Newmarket, North York, Pickering, Richmond Hill, Scarborough, Thornhill, and Vaughan.
Contact us today to get started on your project.