1BENMU- Microcement | Toronto
Microcement is a modern way to add texture and interest to any space and it has become increasingly popular in recent years, thanks to its sleek, minimalist look.
Microcement is a popular choice for creating a modern look. This type of finish is available in a variety of colors, and can be customized to create unique looks. Microcement is a type of cement that is made up of very fine particles. It is often used in construction projects where a smooth, seamless finish is desired.
One advantage of microcement is that it can be applied in thin layers, which makes it ideal for use on walls and ceilings. It can also be tinted to create different colors and effects. In addition, microcement is resistant to water, stains, and scratches, making it a durable choice for both indoor and outdoor use. Although it is more expensive than traditional cement, microcement is becoming increasingly popular due to its many benefits. As a result, it is likely that we will see more and more applications for this versatile material in the years to come.
Our Latest Microcement Project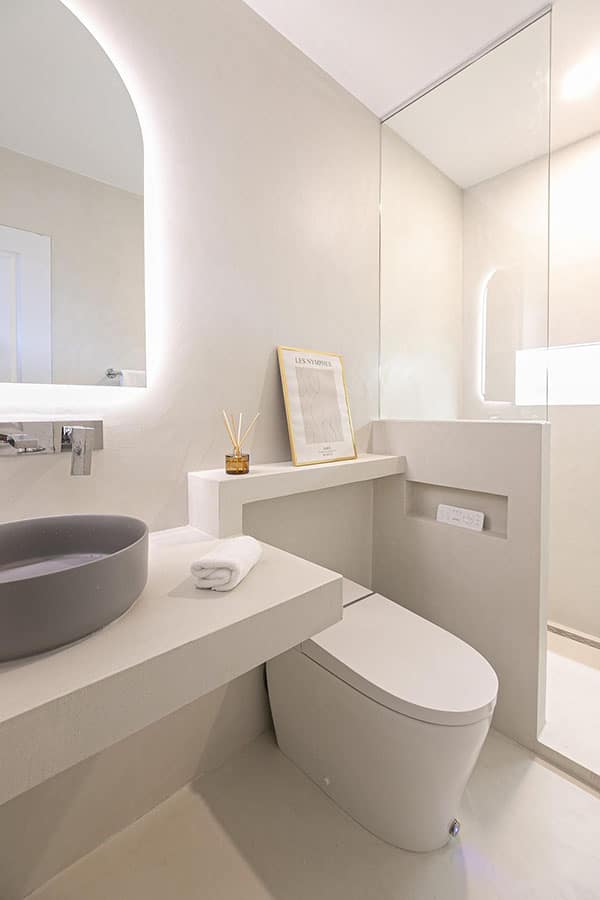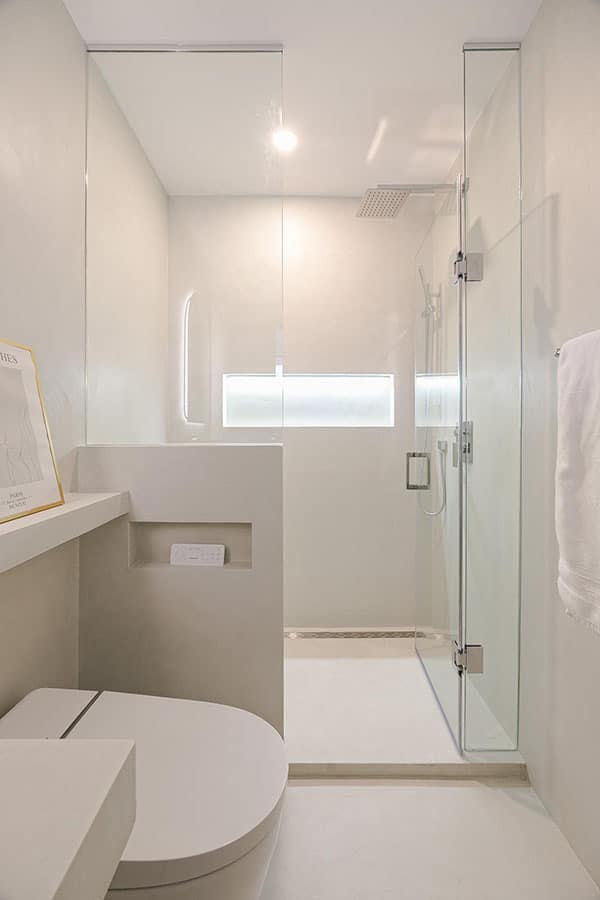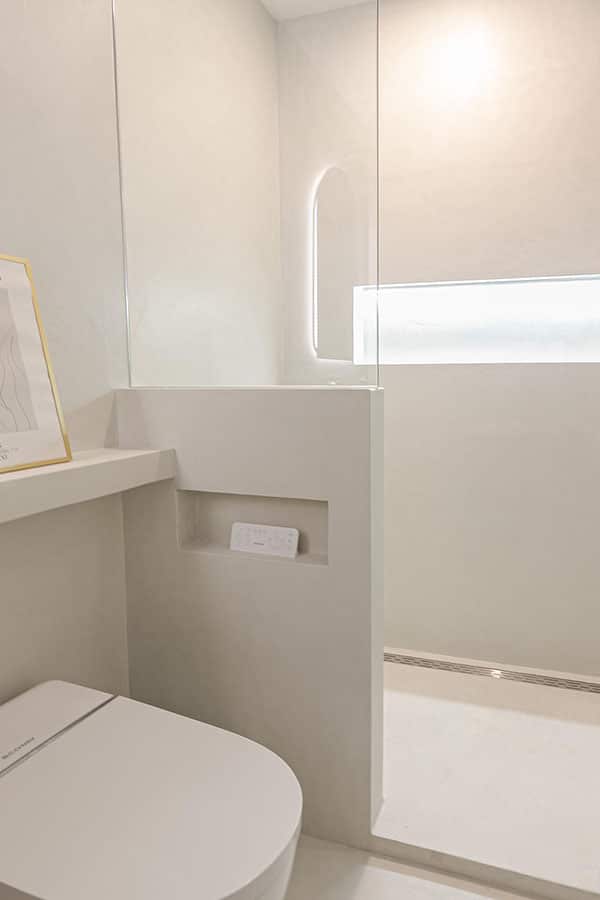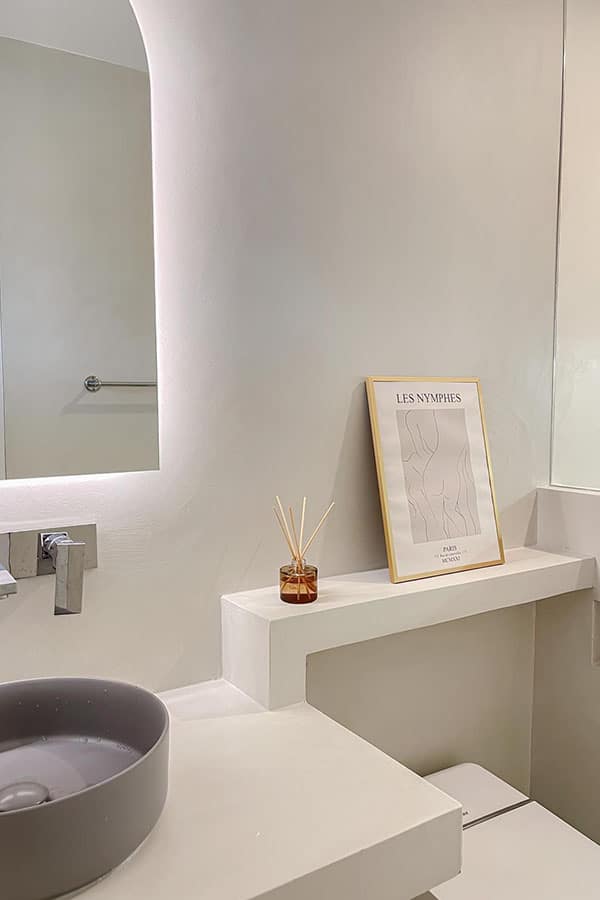 Seamless Microcement Floors
Microcement floors are becoming increasingly popular in both commercial and residential settings.
There are many benefits to using microcement on floors. This type of flooring is easy to clean and maintain, and is available in a variety of colors and finishes. Microcement floors are also slip-resistant, making them a good choice for areas where there is potential for water or other liquids to be present.
Often chosen for their durability and low maintenance requirements, microcement floors are also prized for their seamless, smooth appearance.
Traditional cement floors can be rougher and more porous, making them more susceptible to stains and dirt buildup. In contrast, microcement floors form a hard, impenetrable surface that is easy to clean and keep looking like new. In addition, the lack of joints or grout lines gives microcement floors a sleek, modern aesthetic that can elevate any space.
Whether you're looking for a durable floor for your kitchen or a chic surface for your living room, microcement may be the perfect choice.
Modern Microcement Walls
Microcement walls have become increasingly popular in recent years, thanks to their sleek, minimalist look.
There's no denying that concrete is having a moment. Even in spaces that traditionally shunned the industrial material, like living rooms and kitchens, concrete is popping up as an unexpectedly chic choice. And one of the most popular concrete trends today is modern microcement walls.
Microcement is a type of very fine concrete that can be applied directly to walls (and even floors and ceilings). It's typically only a few millimeters thick, which gives it a sleek, smooth look. Plus, it can be tinted any color you want, so you can really make a space your own.
If you're looking for a unique way to add personality to your home, consider using microcement to create modern accent walls. Whether you go for a monochromatic look or something more colorful, microcement walls are sure to make a statement.
1BENMU Microcement Experts in Toronto
When it comes to modern interior design, 1BENMU is one of the top design-driven and high-quality contractors in Toronto and the GTA.
Our designers and contractors are changing the way people think about interior space design. 
If you are interested in exploring the possibilities of microcement, contact 1BENMU today. Our team of experienced microcement contractors will work with you to create a unique and beautiful space that meets your specific needs.
Learn more about our Microcement Services
For more information, please feel free to contact our Microcement Experts to learn more about how we will help you with your project. We provide our services across GTA including Ajax, Aurora, Brampton, East York, Etobicoke, Markham, Mississauga, Newmarket, North York, Pickering, Richmond Hill, Scarborough, Thornhill, and Vaughan.
Contact us today to get started on your project.